Register an Affiliate Account
The Affiliate area is located in your user profile. In the top right corner of the page click on your username and then select Profile.
In your profile page click on the tab Affiliate area
You will be prompted to register an account: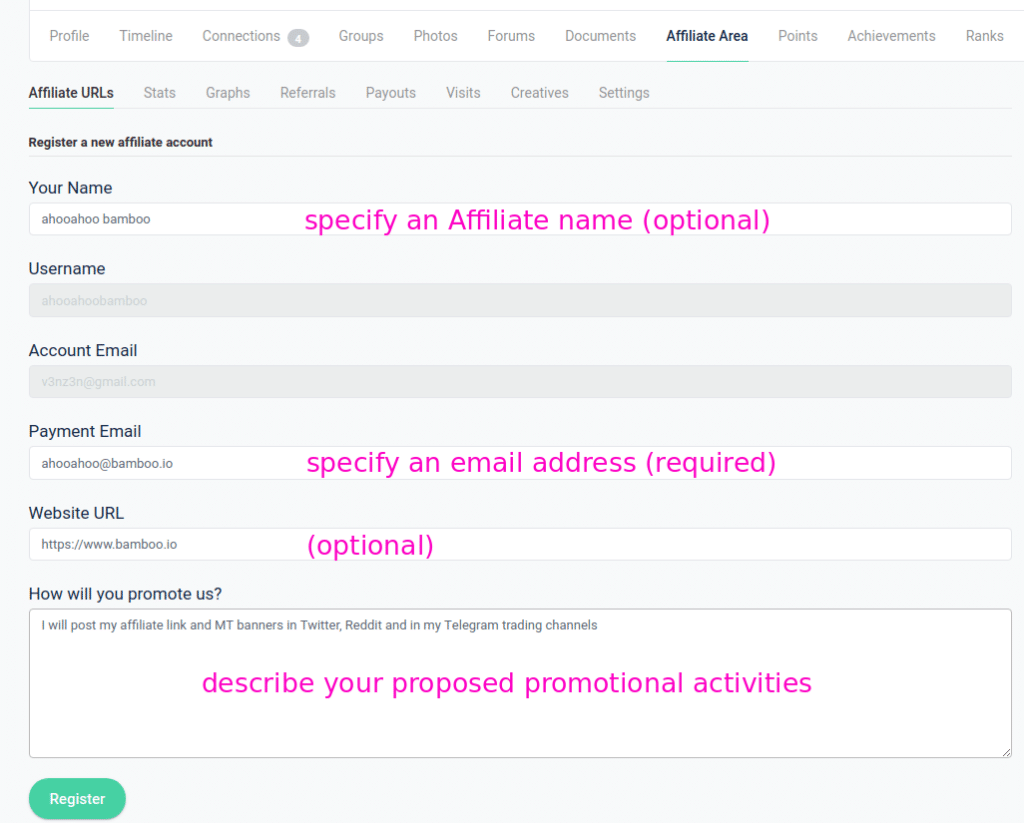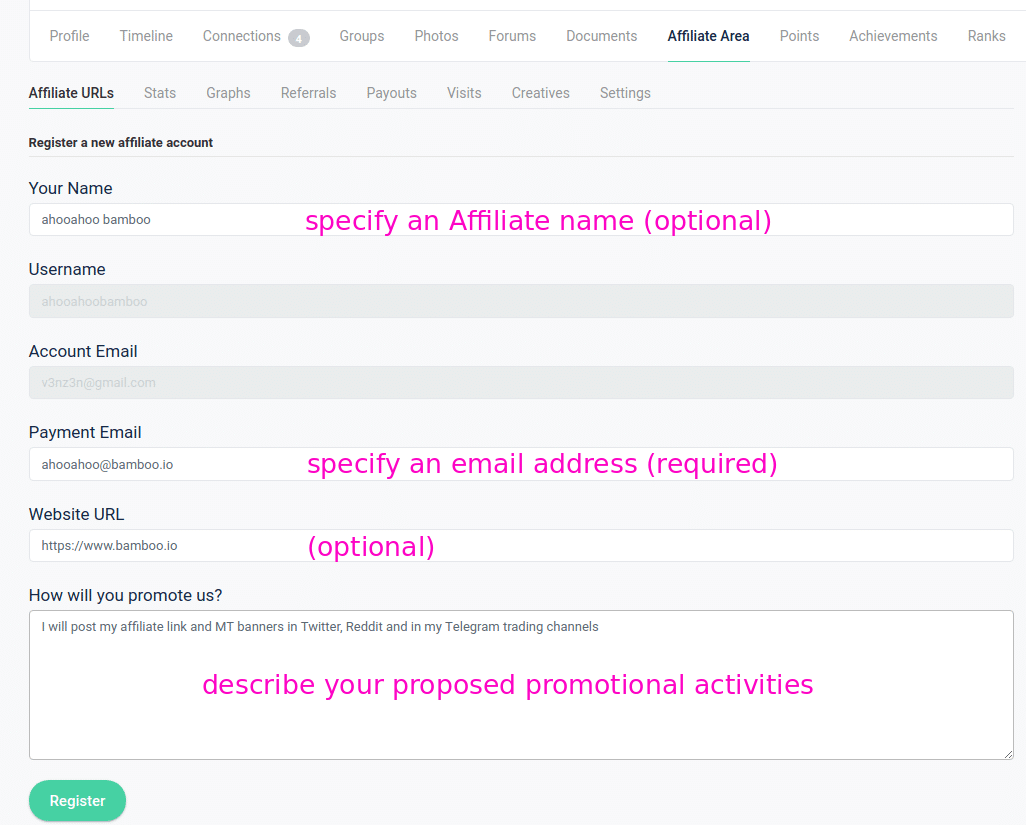 The registration page only requires you to provide an email address for payment notification, as well as, the proposed promotional activities you will undertake.
If you would like to affiliate using another name (that is different from your username) then you can, optionally, provide a company name or real name. You can also provide a link to your website or active social media account, if you feel that this would support your proposed promotional activity.
Click the Register button, bottom left, to submit your information.
Generate a Referral Link
After registering you will be presented with your unique Affiliate referral link, shown in magenta in the image below: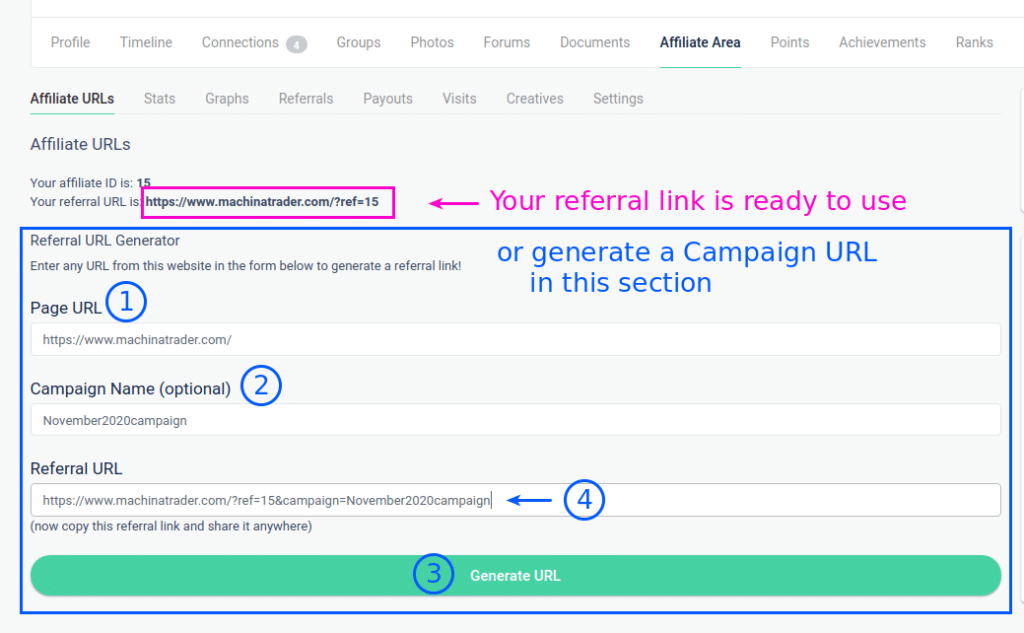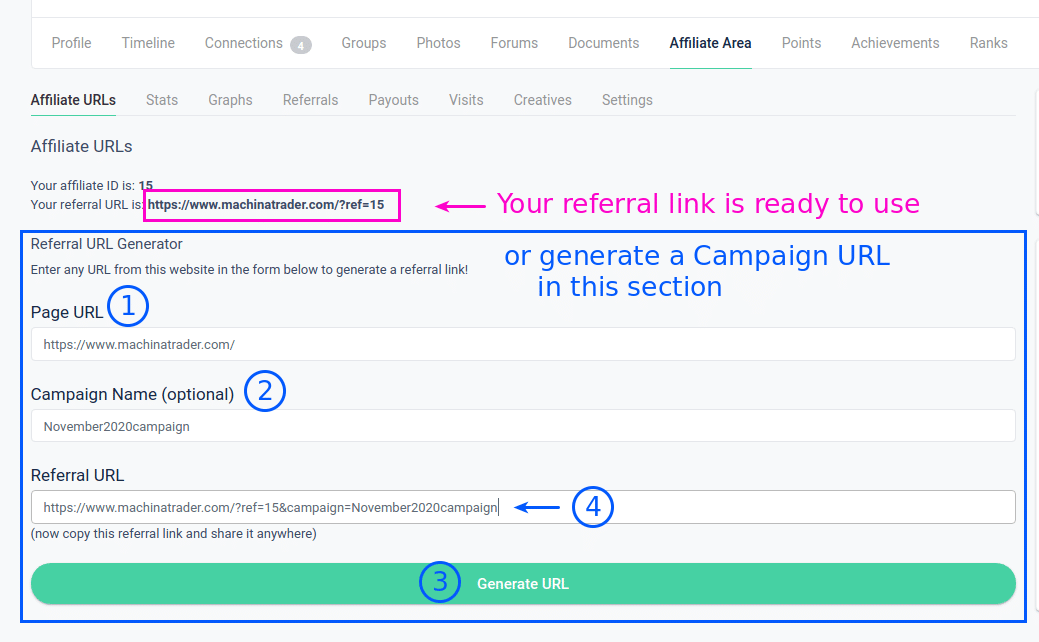 Your referral link is ready and can be copied and pasted to social media and in your communications. However, there are additional resources available to help you make your affiliate promotions more compelling and structured. The area highlighted in blue in the image, above, allows you to create Campaign URLs.
A Campaign URL is recognized by the Affiliate system and lets you know where each referral came from. You could, for example, generate a unique Campaign URL for use in Twitter, and another Campaign URL for YouTube. In this way you will be able to identify which platform generates more referrals.
To generate a Campaign URL, specify a landing page (e.g. your profile page, although the default MachinaTrader home page is recommended), and provide a unique Campaign name (alphanumeric characters only). Then click the Generate URL button and a Campaign specific URL will be generated in the Referral URL textbox.
Promotional Banners and Artwork
MachinaTrader provides, and regularly updates, promotional banners and artwork to make your social media posts more compelling and encourage others to click-through on your referral and campaign links.
On the right side of the Affiliate menu click on the Creatives tab: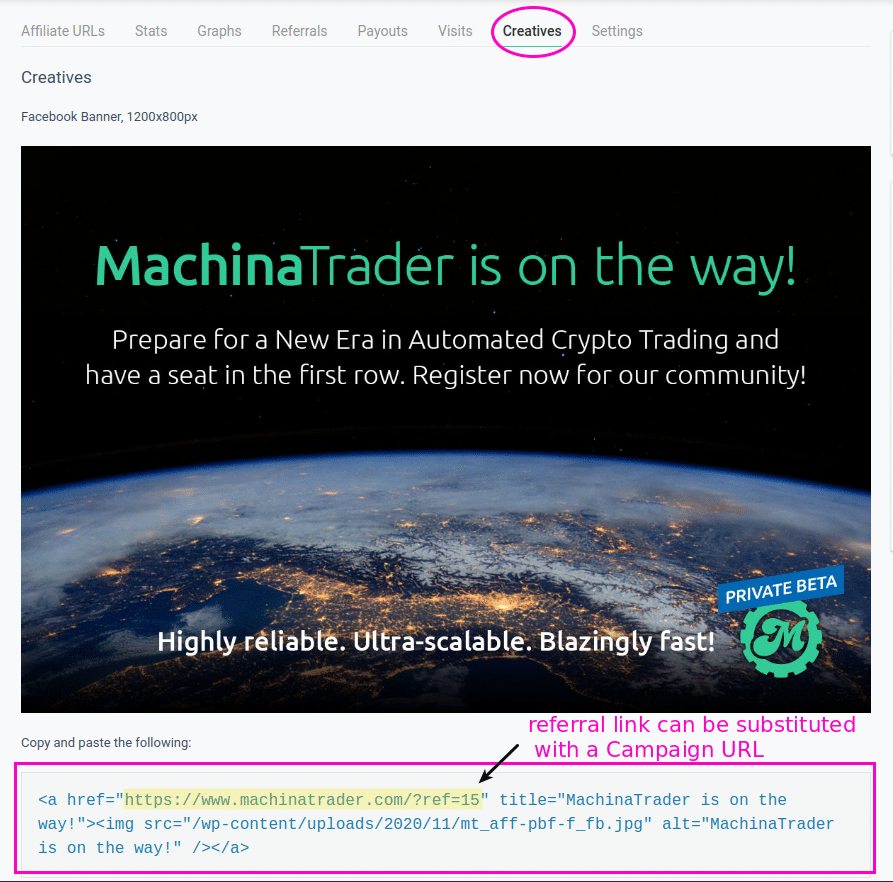 Banners and artwork, suitable for various social media platforms and web contexts, is available. Browse the Creatives page to find a design and size appropriate to your needs. Use the HTML (pre-generated with your referral link) and paste it in your chosen social media or include it in your website.
Note that your base referral link can be substituted with a Campaign URL if you want to keep track of which links generated which of your converted referrals.
Statistics and Settings
Once you have posted your referral (or Campaign) link, you can see visits and "Unpaid Referrals" (visitors who went on to register a MachinaTrader user account) and "Converted Referrals" (referrals who have spent in the MT Marketplace) in the Affiliate Area > Stats tab: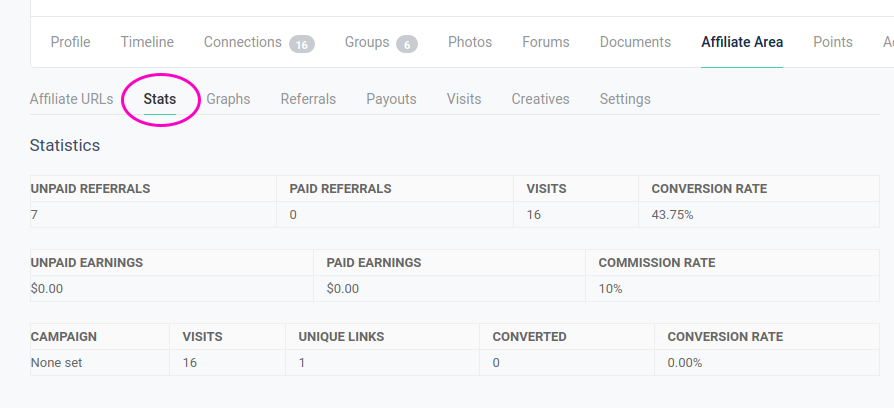 Various useful views of your referrals and Campaign activity is available in the tabs Graphs, Referrals, etc.
In the Settings tab you can enable or disable payment notifications, as well as, change your notification email address.
[mkb-info]MachinaTrader Affilates will receive commission from purchases made by their referees in the MachinaTrader Marketplace. Payments will commence once the Marketplace becomes available toward the end of 2020.[/mkb-info]