What is a Badge ?
A badge is your reward for attaining an Achievement in the MachinaTrader ecosystem. Badges appear in your user profile and indicate, to other users, your degree of activity, experience and skill. Some badges are one-time only rewards while other badges can be upgraded.
Upgradable Badges
Upgradable badges signify increasing rank and ability. An example of an upgradable badge is the Popular Posts badge. This badge is earned whenever a forum post, made by you, has received 5 comments. So, after the first 5 comments (an Achievement) you receive a Level 1 Popular Posts badge. After the next target amount your Popular Post badge upgrades to Level 2, and so on, up to Level 10.

[mkb-info]An upgradable badge indicates your social activity and skill. Additionally, you also receive Roids and, sometimes, Galactic Credits (discussed later) for each upgrade, and unlock other quests as you upgrade your badge to higher levels.[/mkb-info]
One-Time Badges
An example of a one-time only badge is the Early Adopter badge. The initial set of users who registered at MachinaTrader each received this exclusive badge that will be visible in their profile for perpetuity.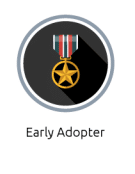 Another example is the Sharpe Mind badge (to become available later). A trader who is able to achieve a Sharpe ratio >= 1 with their live algorithmic strategy, will be awarded with this unique badge. The badge is an award for excellence and the user's prestige instills confidence in his followers and signal subscribers.
An example of a badge with more complex conditions is the All Stars badge. In order to achive this badge you must complete several quests, each with their own set of Achievements:
– have a Level 3 Popular Post badge (the upgradable badge described earlier)
– have a Marketplace Consumer badge (has spent credits on a strategy or product in the MachinaStore)
– have a User Fidelity badge (active Machina subscription)
– have a Strategy Author badge (has published a strategy)
So, there are compound requirements (several quests) and this badge signifies, to other users, that you are an active user, socially popular, and a skilled trader. This badge increases your likelihood of attracting subscribers to your strategy and signals; increases your credibility in the forums; and, earns you additional rewards such as Galactic Credits and Roids (discussed next).
[mkb-info]The last two badges in this example are not yet achievable because they will only become available after the current Private Beta phase when MachinaTrader algorithmic trading system is rolled out to users.[/mkb-info]