The 
MachinaTrader
 Dashboard is the landing page right after
 the
 log
ging into the platform
. It can be reached at any time by selecting "
Dashboard"
o
n
 the left menu.
By default, it displays information about your 
Machinas
, about the latest trades and 
about 
you
r wallets
.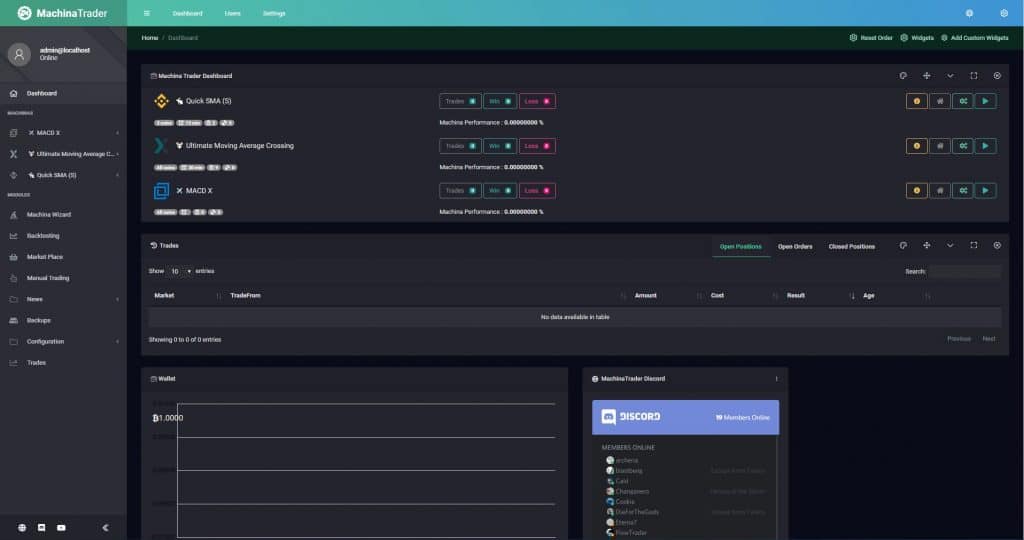 Machina Widget
Your Machinas are all listed
and can be seen 
on the left
 side
, what exchange and strategy they are linked to, as well as the configured coins and trading intervals
.
In the middle of the widget, you
can 
find a summary of trade counte
r
s
, on which 
the 
number of 
winning and losing trades, as well as the overall performance of th
e M
achina,
is displayed. 
On the right 
side, 
you have the actions 
that enable
 you to
control this Machina,
edit its configuration 
and to
 Start or Stop it on demand.
Trades Widget
A
ll 
the 
trades from all 
the 
M
achinas
are listed
in a single grid 
with the newest
 trades
 on top.
For each trade, you can see on which Pair and
on 
which Machina it has been executed, if it was a manual operation or 
if it was 
triggered
 by a strategy as well as the amount and price at which it was traded.
On the right, we have action buttons where we can see more information about the trade or manually sell an open position.
Wallet Widget
Below 
this
t
rades list
,
 we have the wallet graph which shows the evolution of the wallet 
over the last days?
 (how many days, why only 1 wallet if multiple 
machinas
 ?)
Dashboard Customization
The Dashboard is highly
customizable, 
it can do much more and it's up to you to turn
it 
into the perfect dashboard that meets your expectations.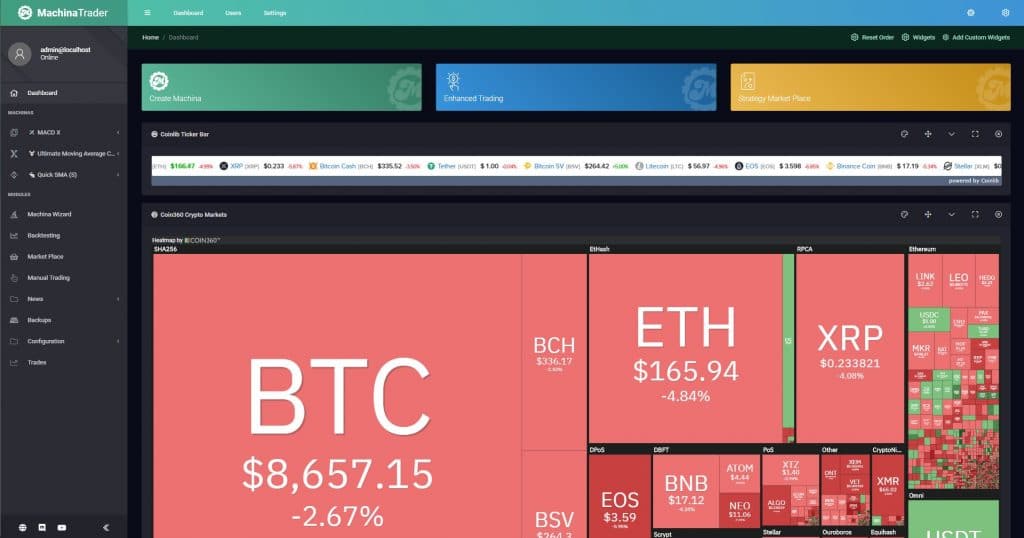 W
e have a pre-selected
set
of widgets that you can download and install on your Dashboard. This can be achieved by select
ing
 the 
Widgets
icon at the top right side of the page.
From there you decide what additional information you want to display. 
Downloading a new Widget may
 require 
you 
to refresh the Dashboard
. Once the page is refreshed
a few seconds later
, new widgets are shown on the bottom of my dashboard
.
You
may also move and resize everything so that it's organized in the way you like
;
 just drag and resize the windows. The widgets can be tagged by color or minimized using their specific action buttons in 
the
title bar and removed from the dashboard at any time
 using the close action.
Adding Custom Widgets
It is also possible to add your own custom widgets to the dashboard. For doing so press the 
Add Custom Widget
 button on the top of the page and 
provide the HTML code for your own widget.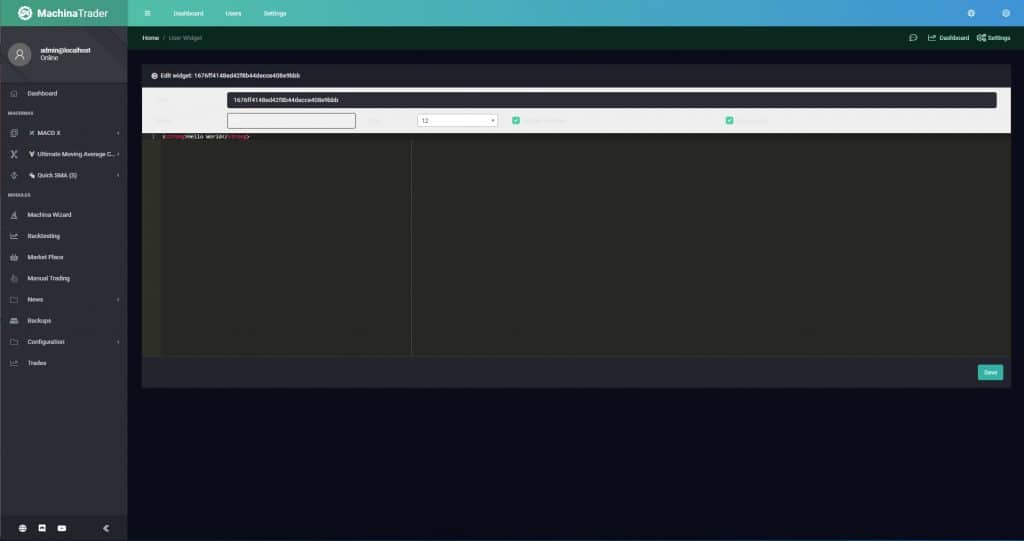 Just copy any widget-code and paste it into
the WYSIWIG-editor
and press "
Save"
.
Once you reload the Dashboard, you can find newly created widgets at the bottom of the page and can drag them where you want them on the Dashboard.
Have a look at our small guide to adding widgets to the Dashboard
here
.