This article describes how to add, configure & customize Widgets for Your
Machina
Trader Dashboard. Widget configurations and Dashboard configurations, in general, are being saved per device on where you use MachinaTrader.
Adding a Widget from the preselected Widgets list
On the top right corner of the Dashboard click "Widgets" to get to the list of preselected Widgets* available. *Preselected Widgets list will be replaced with a marketplace category for Widgets where Widgets can be shared for free.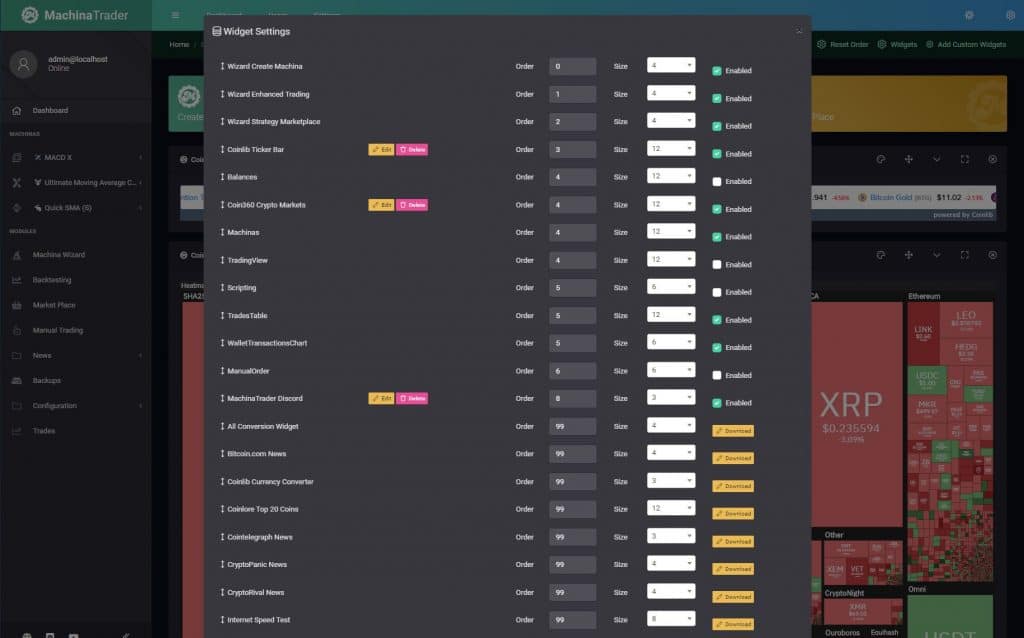 You may move any widget via drag and drop to change its location (Order) or you may set the order via numbers where 0 is top and 99 the bottom of the Dashboard. The 2 buttons on the right of each Widget name allow you to "edit" and "delete" existing Widgets. You may change the size of each Widget as you wish while 1 is the smallest, 6 is half and 12 is the full width of the Dashboard. It is also possible to Enable/Disable already downloaded Widgets at any time. Make sure to save your changes on the Widget Configuration by clicking the "save" button on the bottom of the Configuration Page.
Adding a new Widget via the Widget (WYSIWYG) Editor
You may add any widget from any webpage to your MachinaTrader Dashboard that you like. Simply copy the code of your widget and paste it into the Widget Editor. The Widget Editor is a WYSIWIG (What You see is what You get) type of Editor, so anything you like to do is generally possible. You may customize Your widgets or even write your own Widgets. It is even possible to rewrite existing MachinaTrader Widgets from scratch and make use of the MachinaTrader API for the needed Data. It makes sense to always use a
relative width
(in %) for your Widget-Code, as this will allow the Widget to scale automatically when You change the respective Widget size from within
Machina
Trader.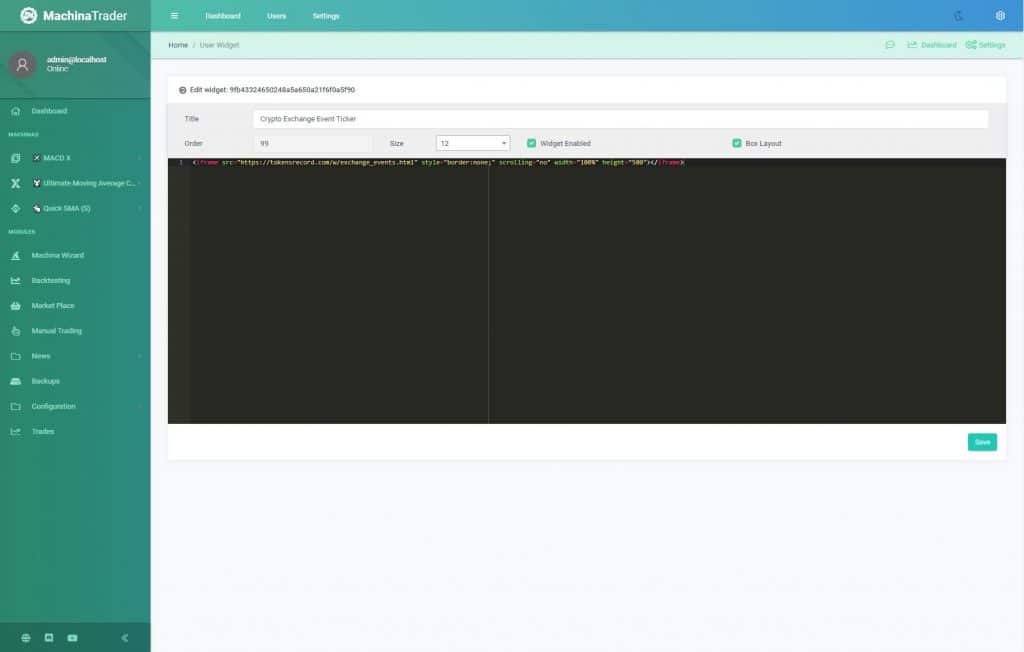 Click the "save" button to save your new Widget, you will need to reload your
Machina
Trader Dashboard once to display it.
List of pages with awesome crypto-related Widgets
https://www.coinlore.com/de/crypto-widgets
https://www.coingecko.com/de/widget
https://www.cryptocompare.com/dev/widget/wizard/
https://coinmarketcap.com/de/widget/
https://cointelegraph.com/widgets
https://www.tradingview.com/widget/crypto-mkt-screener/
https://www.fxempire.com/widgets
https://co-in.io/crypto-price-widget/
https://coinlib.io/widgets
https://medium.com/@tokenrecord/cryptocurrency-event-widgets-235251eb4831
https://coincodex.com/widgets/
https://coin360.com/about/widgets
Sharing is caring
Share Your widgets with the community so that everyone can profit from an even better experience on
Machina
Trader!