MachinaTrader
A new era in automated trading.Redefine your crypto trading bot.
Everything in one place. Highly reliable, ultra-scalable and blazingly fast.
Give your Crypto Bot what it really deserves
Meet Bob, a crypto trading bot. In the beginning, Bob felt like nothing more than a rusty tin can, because he's been due some reliable features a long time ago… however, after delving into the world of MachinaTrader, his life went from zero to hero in the blink of an eye!


Follow Bob learns about the tools and services offered by MachinaTrader – such as live and automated crypto trading, market analytics, portfolio management and data science. Whether you are a novice trader, a strategy developer or a big institutional organization, learn about the most comprehensive trading tools and services available and give your crypto bot what it really deserves.
We have focused on developing the most comprehensive trading tools for your crypto bot. From simple configuration wizards for automated signal services based trading to building & tweaking complex trading strategies and monetizing. Setup your own Bob the bot with pretty exciting extras! 
Build your trading Machina
Build Your customized and fully automated crypto trading bot based on our extensive set of features, options and services.
Build, edit and configure Trading Strategies
Use industry standard indicators and advanced calculations as well as live or historical market data.
Backtesting
Test trading strategies on live markets without using real funds and run backtests on historical market data.
Signal Services Marketplace
Subscribe and trade with your preferred services or host and sell your own to our community.
Manual Trading
Make your own decisions and control your funds & trades manually.
Strategy Trading
Use our built-in strategies or create your own. You can test and run them on the major crypto exchanges.
Account Monitoring
Monitor your portfolio or a specific account in read only mode.
Cloud hosted or local based
Use MachinaTrader online or take total control and run it locally and keep your private keys truly private.
Crypto Exchange API Support
MachinaTrader supports a constantly growing number of crypto exchanges.
Script Editor
Build & edit your trading strategies on a script based editor. Integrate data sources and libraries of your choice.
Portfolio Statistics
Track all your assets, financial operations as well as trading and portfolio performances.
Easy to use Wizards
Configure complex trading mechanisms using our built-in configuration wizards.
Platform Independence
MachinaTrader is compatible with Windows, MacOS and Linux.
Technical Indicators
Use our integrated indicators or build custom ones.
Intelligent Newsfeed
Get Market specific News in realtime while trading manually or use the aggregated data for your trading strategies.
Backup
Use build-in industry standard tools to Backup your data to any datastore you want.
Community Widgets Dashboard
Customize your dashboard with functional widgets, created by yourself or by other community members.
Nightmode
Automatically switch to Nightmode based on your browser settings or do it manually.
Debugging
Use Visual Studio Code or any other IDE to write your scripts.
Custom Connectors
Our modular architecture allows highly efficient integration of any kind of API.
Visual Editor
Easy-to-use visual editor for building & editing your trading strategies.
Machine Learning
Use advanced Machine Learning tools for your trading strategies. Train your models using the power of Your GPUs.
Tax Audit
View and print a fully tax compliant portfolio and trading audit log.
Social Trading Marketplace
Share, lend or rent your trading strategies with our community and much more.
Strategy Auctions
Auction your own trading strategies to the community or bid for an available one.
High Frequency Trading
Build HFT trading strategies and run them at the maximum supported speed/frequency.
Leverage Trading
Use leverage trading manually or via strategies.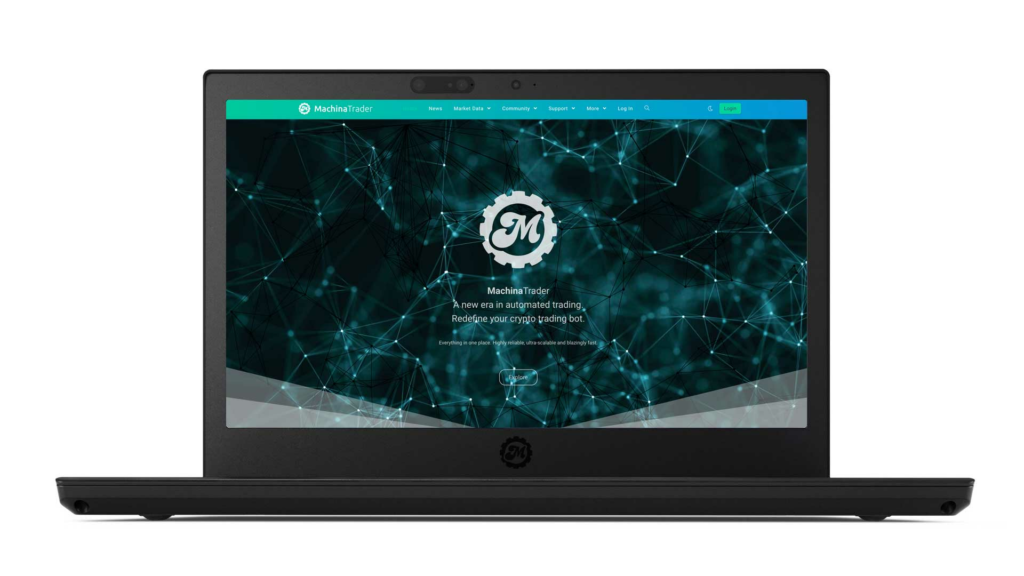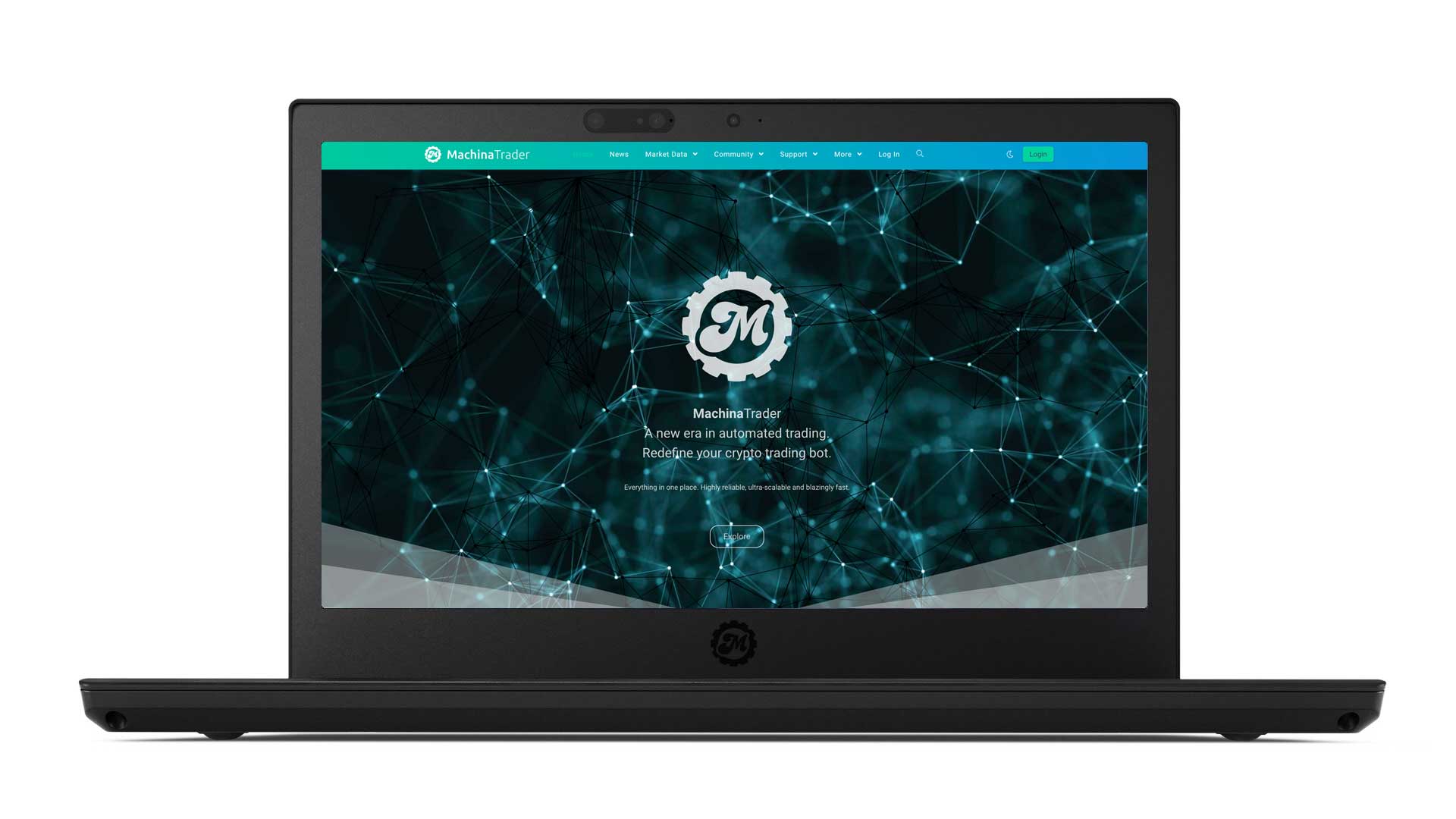 Share your experience with our community and learn about Crypto Trading in the MachinaTrader University. Invite friends, share trading strategies and benefit from our referral program. Learn, develop and maximize your profits. Together!
Join our community​
Become an active member of our growing community! Exchange ideas with others. Build public or private groups. Discuss strategies or analyze the latest News. Get help if you have Questions. Or just have a chat about the current crypto market situation. By the way you can increase your user level and profit from additional benefits.
Refer to a friend​​
Or as many friends as you like, because you'll profit on multiple levels. As soon as you delve into the world of MachinaTrader, you will want to share your experience with everyone else. Our referral program will help you and your friends reach your profit goals.
Learn at the MT University​
Learn how to get the most out of our crypto trading ecosystem. From simple tasks such as setting up your first machina to challenging tasks about complex trading strategies. Find out how to develop a handy strategy – and how you can continuously adapt it to the current market situation.
Fidelity Digital Assets, the subsidiary of one of the world's largest asset managers, has published the first report of its Bitcoin investment thesis. The report describes Bitcoin as an emerging value investment and compares it to asset classes such as gold. Fidelity Investments is a US financial services company that currently manages over $8 trillion in assets. Two years ago they established a subsidiary, Fidelity Digital Assets, which provides custody and other digital asset management services. Last week they published the first part of their "Bitcoin Investment Thesis". Bitcoin can mean different things to different people. Why Bitcoin is bought and stored can...

An increasing number of central banks around the world are analyzing, testing and developing CBDCs as prototypes. These initiatives are strongly supported by the Bank for International Settlements (BIS). Over the past nine months, central banks (CBs) have expressed their interest in CBDCs (Central Bank Digital Currencies) and their CBDC plans and initiatives. The number of central banks working on CBDC projects has grown steadily since then. This momentum has been endorsed and supported by the BIS. The official implementation of the first comprehensive CBDC project is about to begin. The BIS endorsement The BIS Annual Report 2019, which was published on...

The Tel Aviv Stock Exchange (TASE) plans to launch the country's first central securities lending platform on November 2. The system is based on blockchain technology and is currently being tested. Currently, there is no central platform for securities lending on the Israeli market. Instead, it is carried out via interbank mechanisms. However, this means that the full potential of the market cannot be exploited. Blockchain-based "Central Block Chain Securities Lending PlatformFor this reason, the Tel Aviv-based stock exchange (TASE) plans to introduce the "Central Blockchain Securities Lending Platform". Blockchain technology is a suitable solution for supporting securities markets due to its...
Questions? We've got you covered!
No questions matching current filter