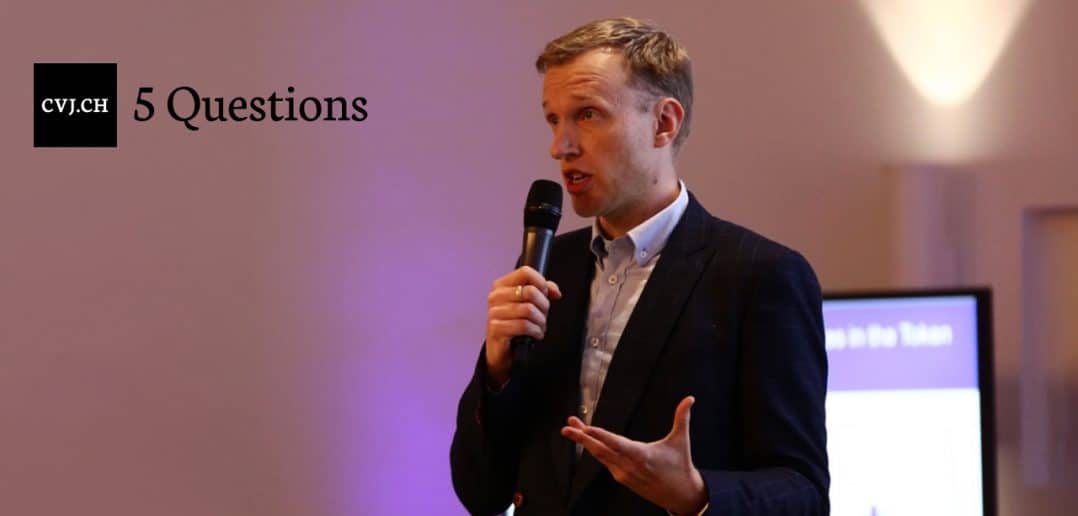 How will blockchain technology affect our lives? Can digital currencies establish themselves as an asset class? The questions that arise in the world of crypto seem limitless. We limit ourselves to five and turn to experts in the field.
The development in the blockchain and cryptocurrency space as well as the rapidly growing ecosystem around the new technology is fascinating. Behind it are people who believe in this innovation from the bottom of their hearts. People with a pronounced passion for the field, contagious enthusiasm and entrepreneurial spirit.
In the CVJ.CH format "5 questions", prominent and respected specialists and entrepreneurs in the crypto space are asked for their opinion. Different views and exciting contributions from the ever-changing blockchain world are presented in response to the same recurring questions.
Brief introduction Johannes Schmitt
Hi, my name is Johannes Schmitt. I hold a Ph.D. in philosophy from the University of Southern California and have been with Kraken since December of 2013. Over the past 7+ years I have held a number of different roles at Kraken, including Director of Client Services and currently Director of Banking and Payments.
Kraken is one of the world's largest digital asset exchanges. We were also one of the first exchanges, being founded in 2011. We have more than 1'200 team members spanning more than 60 countries. We offer a global spot market covering nearly 50 crypto assets and 7 fiat currencies through our mobile app and online trading platform. We also operate the only licensed crypto derivatives exchange in Europe and run a leading OTC desk.
In my current role I coordinate the exchange's global banking and (fiat) payments strategy and operations. We offer dozens of different fiat on- and off-ramps and our team is always busy with maintaining and improving the client fiat funding experience.
CVJ.CH: How did you come across the crypto space?
Johannes Schmitt: I first heard about Bitcoin in the spring of 2013 and was initially skeptical that the concept made any sense. However, over the course of the late summer and fall I fell down the (proverbial) rabbit hole and decided I wanted to work in the space. It just so happened that I was looking for new opportunities after a few years in Academia.
I ended up being referred to Kraken by a friend who had discovered bitcoin way before me (in 2011). At the time less than 15 people worked at Kraken and I remember that my interview with Jesse (Jesse Powell, Kraken's CEO) took less than 3 minutes.
Where will the blockchain technology have its biggest impact?
Crypto can play a meaningful role in a broad variety of real world problems, ranging from wealth and income inequality and enabling a fair and inclusive financial system to helping people that are being marginalised and oppressed. For instance, cryptocurrencies can help people that have been locked out of the financial system. This is the biggest untapped market with billions of people around the world that still don't have a bank account.
Another example of what we've already started to see is that people have turned to cryptocurrencies to bypass harsh restrictions imposed during times of protest. Belarus is a good example, where people that lost their jobs for political reasons received donations in bitcoin to prevent funds from being frozen by the authorities.
These are just a small number of examples and there are many more use-cases for cryptocurrencies and blockchain technology that show how it's decentralized nature and censorship-resistance can help create a fairer and more inclusive society.
What will it take for digital currencies to become more widely adopted?
If we look at the last few years, there has already been an incredible amount of progress. Crypto has become an accepted asset class by institutional investors and large corporations. Now it's a larger part of our personal financial lives. But this is only the beginning and far more has to be done for cryptocurrencies to realise their true potential.
I believe that mainstream adoption can be achieved by making sure crypto is understood, easily accessible and trusted. We produce resources to educate people, provide in-depth research and work with governments and regulators to enable better, smarter crypto regulation.
I also believe that it has to be as easy as possible for people to trade and own cryptocurrency. They need to be able to easily fund their accounts and then buy crypto through a user-friendly interface. And when they have questions, there has to be someone ready to answer them.
Will digital currencies establish themselves as an asset class and can Bitcoin remain at the top?
I believe this is happening as we speak. Since the 2017 bull run the market has matured, adoption is growing and we're seeing a lot of institutional money entering the market. From billionaire hedge fund managers and the world's largest money managers and financial institutions to large corporations using their treasury reserves to buy bitcoin, they are all entering the market.
At the same time it's become a lot easier for people to buy crypto, whether through PayPal or a crypto exchange such as Kraken. We are currently growing faster than ever before. We are already trusted by nearly 5 million clients around the world and are the market leader in Europe. So I think that shows how quickly cryptocurrencies are establishing themselves and there's no doubt crypto is here to stay.
Whether Bitcoin will always remain at the top time will tell, but as the first and most established crypto currency out there it has a very strong position and brand, as it were. But different currencies have different use cases and there's plenty of room for many of them to peacefully co-exist.
What is your view on the future of tokenized assets (e.g. financial products on the blockchain)?
Crypto can put assets that traditionally have been available only to the wealthiest within reach of everyone and it allows for the removal of intermediaries to arrive at a fairer distribution of value creation through disintermediation and by moving from centralized to decentralized ownership models.
While this is a very exciting new space within the crypto industry, and it's great to see some of these projects reaching maturity, security and safety should remain the number one priority for crypto users. We always recommend clients to do their homework before investing in this space. That's also why we have a robust asset selection and listing procedure that ensures assets receive the analysis and vetting they deserve before we list them on our exchange.

*Originally posted at CVJ.CH