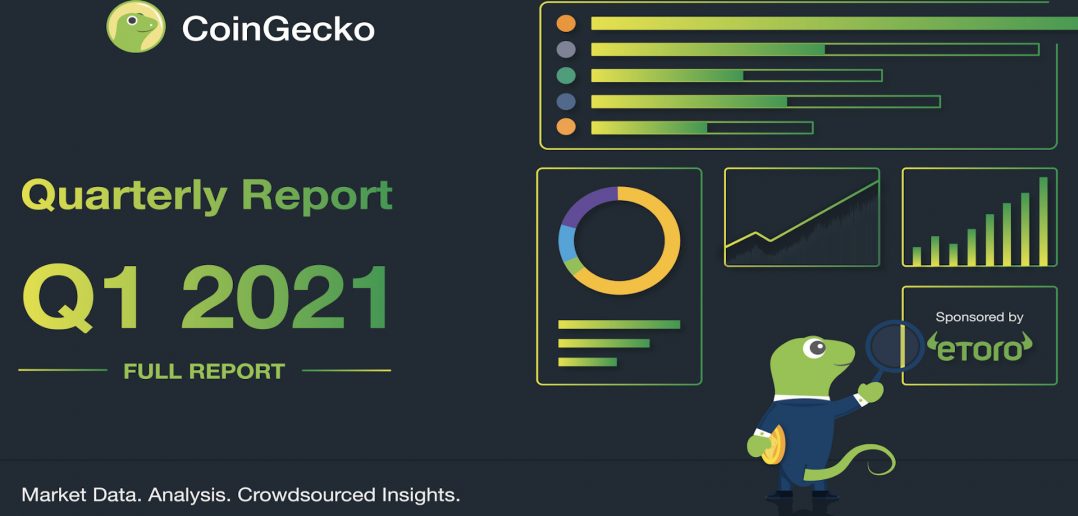 In the first quarter, the crypto markets saw significant gains. Accordingly, it can be hard to keep track. The crypto market capitalization reached 2 trillion USD for the first time, while non-fungible tokens (NFTs) and the Binance Smart Chain gained momentum.
The world's leading cryptocurrency aggregator publishes a 50-page report every quarter. In their latest analysis of the market, they observed that decentralized finance (DeFi) on the Binance Smart Chain (BSC) grew significantly. Bitcoin also hit new all-time highs, while non-fungible tokens (NFTs) experienced the most hype.
Crypto Market Capitalization over 2 Trillion USD
At the end of Q1 2021, the total crypto market cap successfully hit $1.9 trillion which is a significant 146% growth from $780 billion in the previous quarter. However, 57% of the market cap belongs to Bitcoin which has seen significant growth and support this quarter.
Indeed, the "mother of all cryptocurrencies" hit several all-time highs, reaching a peak price of $64,787 on April 14. Compared to a year ago, when Bitcoin crashed 40% in one day to $5,413, it's up 1,097%. The coin ended Q1 2021 at $58,817, with most of the growth fueled by institutions. These include:
Strong growth of the Binance Smart Chain (BSC)
The Binance Smart Chain is the smart contract platform of the crypto exchange Binance. As of April 1, the "Ethereum competitor" had nearly $20 billion in Total Value Locked (TVL), a threefold increase from the previous quarter. This is probably due to the low transaction fees compared to Ethereum.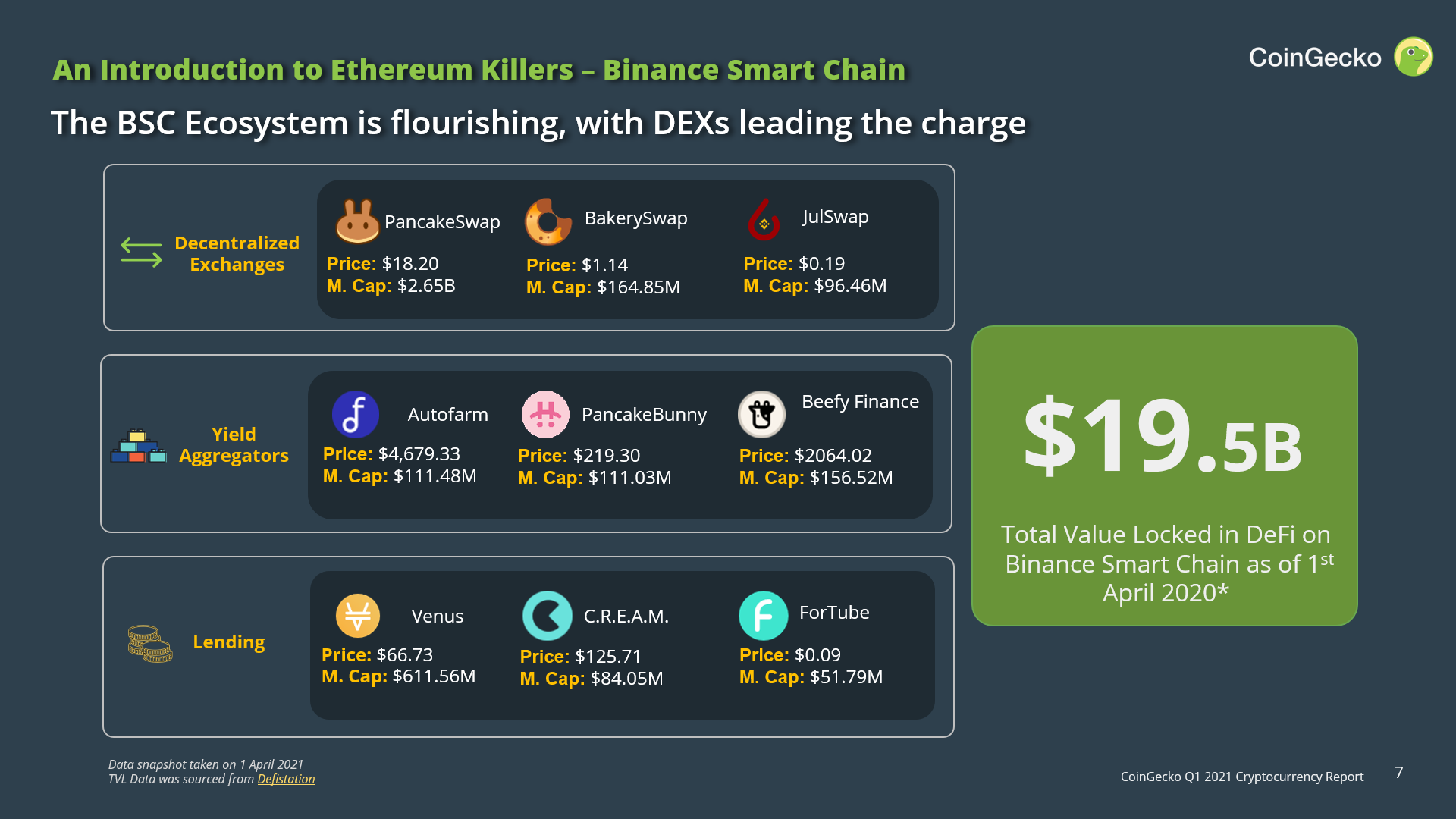 In the DeFi space, the decentralized exchanges (DEXs) continue to be the most important pillars. On the Binance Smart Chain, exchange "PancakeSwap" leads the race with a total market capitalization of $2.5 billion.
In general, Bitcoin and Ethereum failed to keep up with the performance of competing networks. Binance Coin (BNB) specifically had the best performance with a 710% increase. This was closely followed by the two smart contract platforms Cardano (ADA) and Polkadot (DOT) with 555% and 295% respectively.
Growth in Decentralized Exchanges (DEXs)
DEXs saw a net increase of 250% (+$75 billion) in spot trading volume, with the two largest ones, PancakeSwap and Uniswap, accounting for 70% (+$52 billion) of the volume increase. Although the DEX category grew, Tokenlon saw its volume decline marginally by $620 million from December 2020 to March 2021.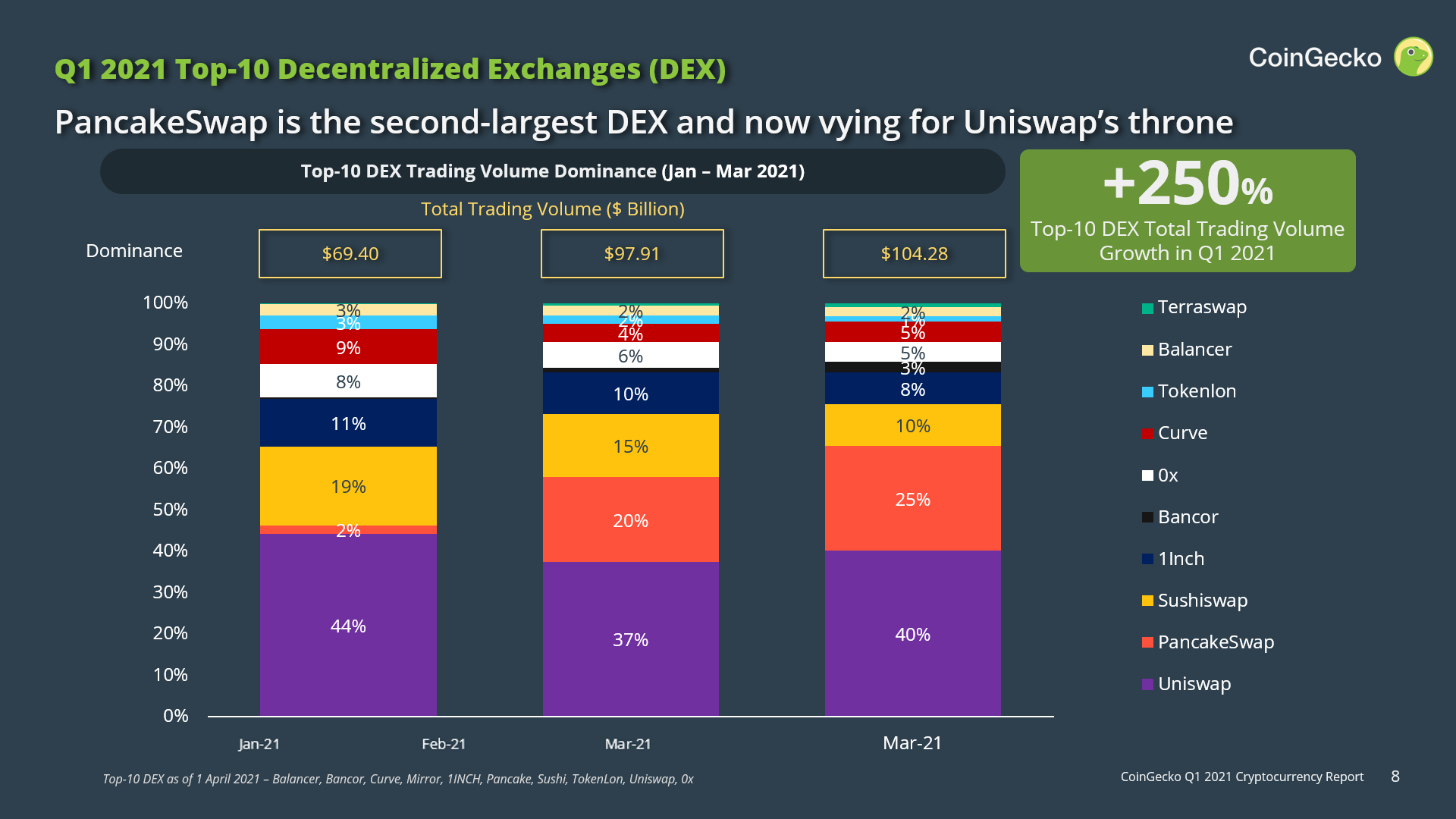 In regards to dominance of the space, only PancakeSwap (25%), Bancor (3%), and Terraswap (1%) effectively increased their market share. In fact, Uniswap is now losing its foothold as the "King of DEXs" to PancakeSwap which coincides with the rise of BSC as the more cost-friendly alternative to Ethereum.
Experiments with Algorithmic Stablecoins
In the volatile crypto markets, people often resort to so-called stablecoins – crypto assets that are collateralized by the us dollar in most cases. However, direct collateralization with real dollars can only be done by a central entity. Therefore, projects have emerged to achieve a stable price curve through algorithmic processes.
The top 7 algo stablecoins' total market capitalization account for $2.23 billion with TerraUSD (UST) commanding the lion's share of the market at $1.6 billion (72.8%). Following behind is Ampleforth (AMPL) with a market cap of $250 million (11.2%) while sUSD (SUSD) amounts to $224 million (10.05). Meanwhile, newcomer Frax (FRAX) has a relatively modest market cap of $113 million (5.1%).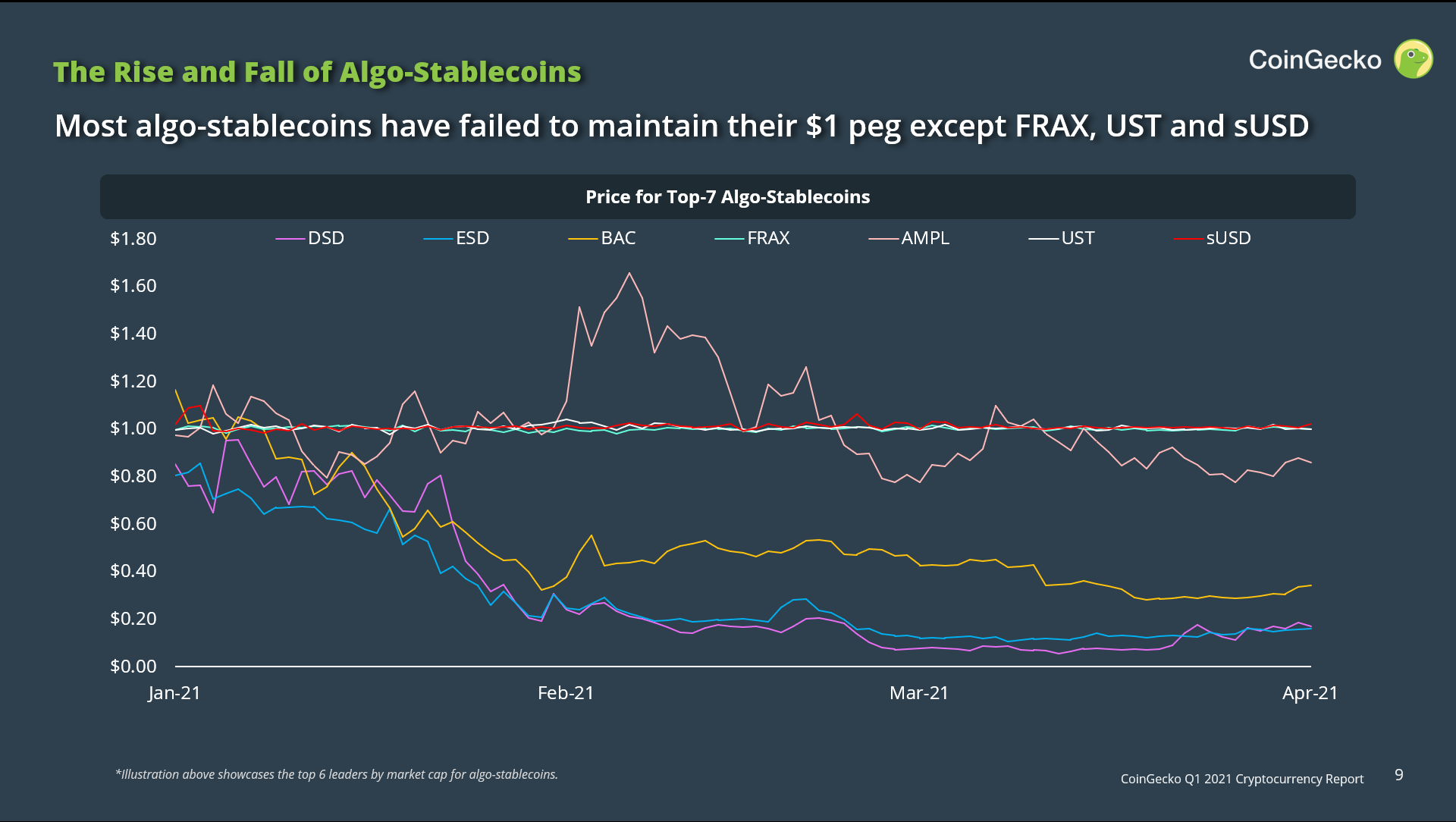 Despite its establishment in 2019, AMPL has yet to stabilize its price at $1 through its rebase-type model. Nonetheless, it is clearly outperforming its Seigniorage peers outside of FRAX, UST, and sUSD. Impressively, throughout the first quarter of the year, FRAX and UST have adequately maintained their peg as their price has an average deviation of less than 0.5% ($1.001 vs $1.005 respectively). Meanwhile, sUSD deviated 1% on average.
Non-fungible tokens (NFTs) overtake DeFi
Non-fungible tokens (NFTs) represent unique assets on the blockchain – for example, art. At the beginning of the year, for every Google search for NFTs, DeFi was searched 8 times as often. However, in early March, NFT searches overtook DeFi and then ended the quarter with a search ratio of 4:1.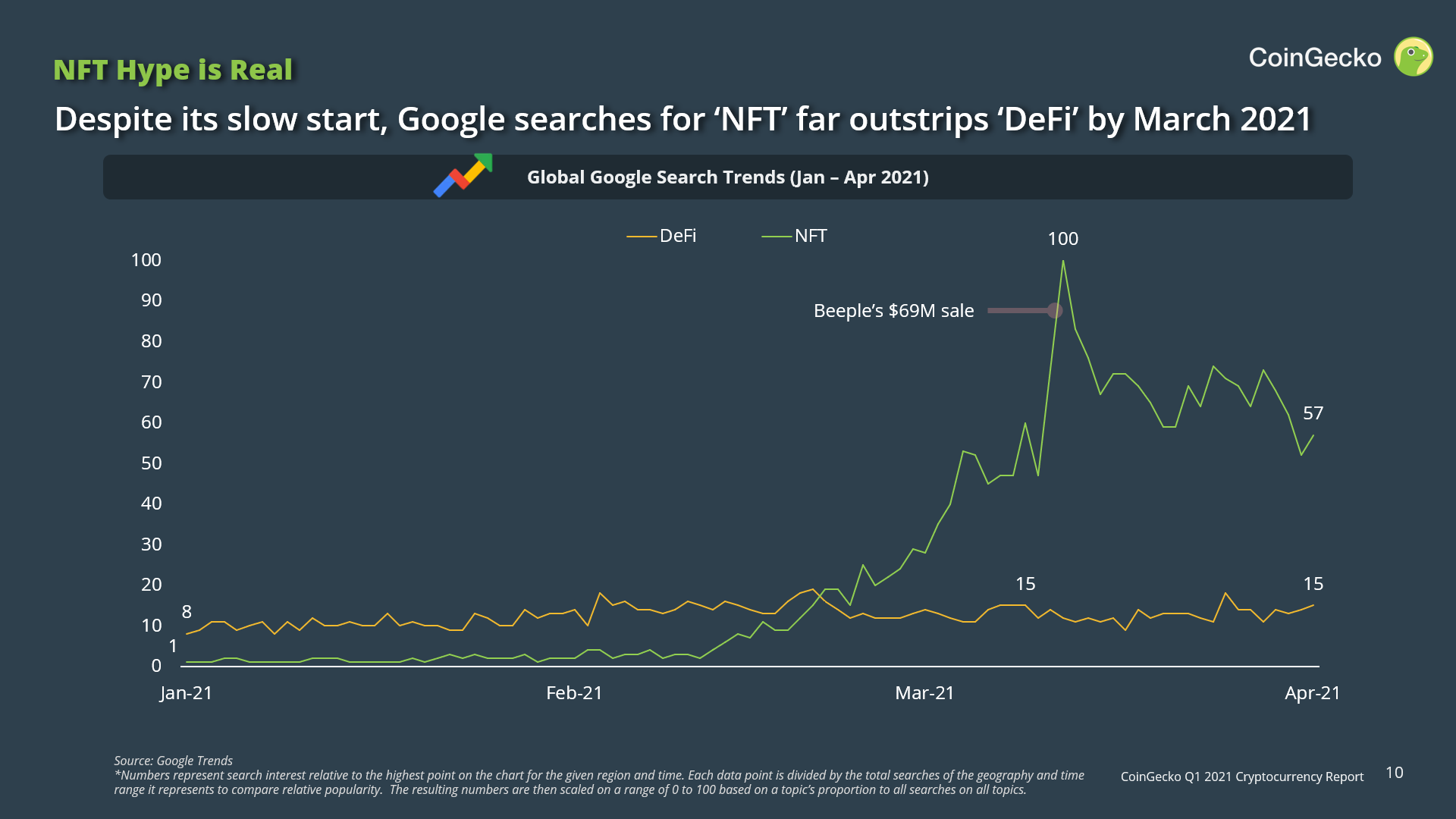 Search interest for NFTs reached its ATH on the 12th of March which coincides with the day after artist Beeple successfully sold his piece 'Everydays: The First 5000 Days' for $69 million dollars.
Record Volumes on Centralized Exchanges (CEXs)
Lastly, centralized exchanges (CEXs) had a net increase of 201% in spot trading volume and ended the first quarter with $1.44 trillion. Binance is the major contributor to the increase and accounts for 59% (+571 billion) of the quarter's increase. This is then followed by Huobi and OKEx at 15% and 11% respectively.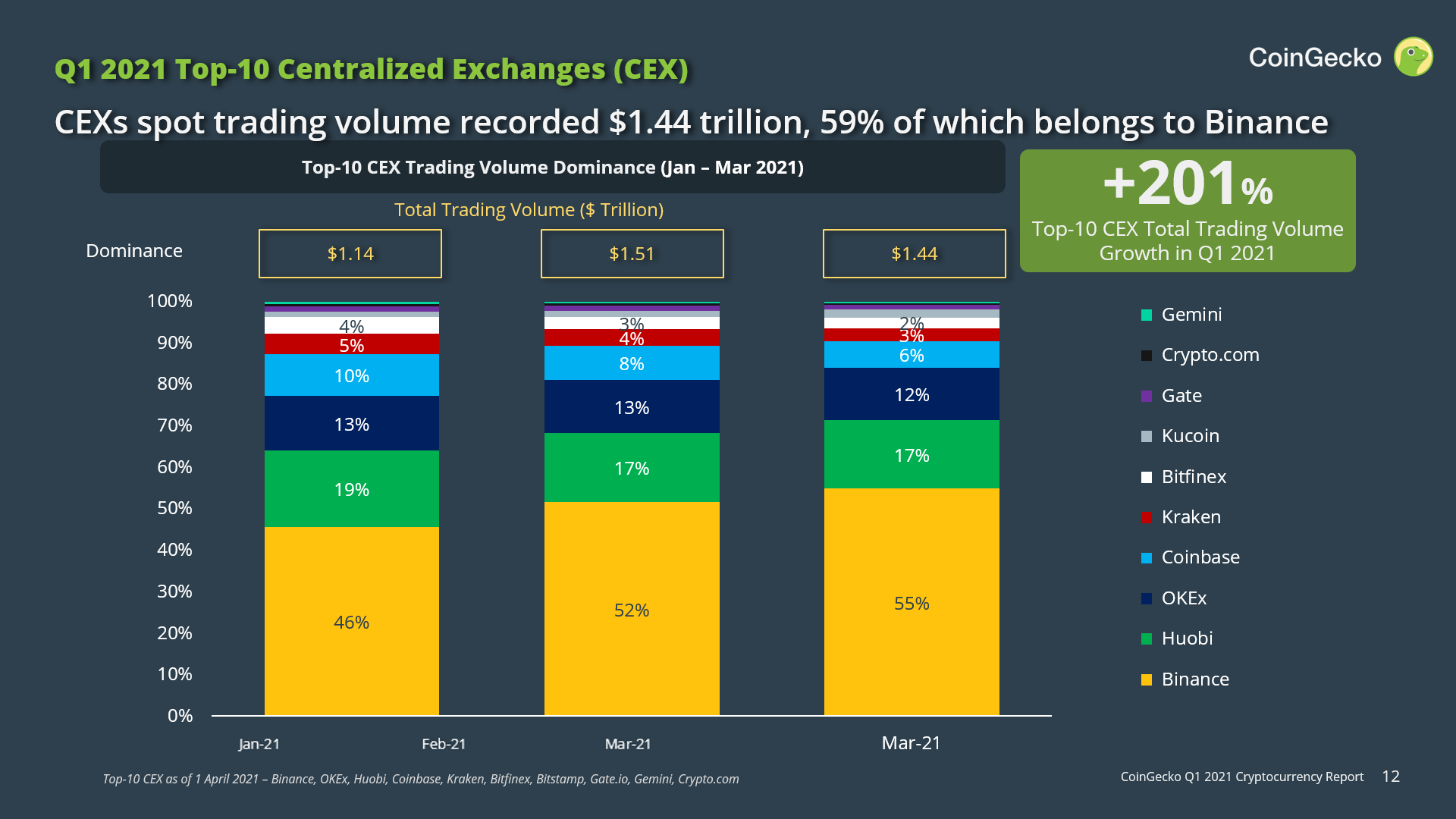 When taking a look at dominance, Binance and Kucoin are the only CEXs that saw an increase in market share. Binance then further cemented its dominance by rising from 46% to 55% of the total market share.

*Originally posted at CVJ.CH