Unregulated stablecoins such as Tether face increasing regulatory pressure from the US government. A new bill called the Stable Act is stirring anxiety in crypto circles. It could effectively put an end to billions of dollars of transactions and throw the industry back several years.
The Act calls for banking licenses for stablecoin issuers such as Tether. It doesn't end there. The bill proposes additional requirements for Federal Reserve reporting. It also proposes issuance approval in addition to ongoing auditing requirements and an insurance policy to cover assets. Another proposal may require stablecoin issuers to store their reserves directly at the FED. This puts them under control of the central bank and severely limits their open usage.
Apocalyptic for crypto as a whole
A report by Dragonfly Research offers a deep dive into current stablecoin usage. It concludes that, should the bill be passed, it could spell the end of Tether;
Make no mistake: the day that Tether gets taken down will be apocalyptic.

Haseeb Qureshi
Tether is by far the largest and most used stablecoin. Its supply increased by 410% this year alone from $4.1 billion market capitalization in early January to $20.9 billion today according to the Tether Transparency Report.
Tether (USDT) Market capitalization YTD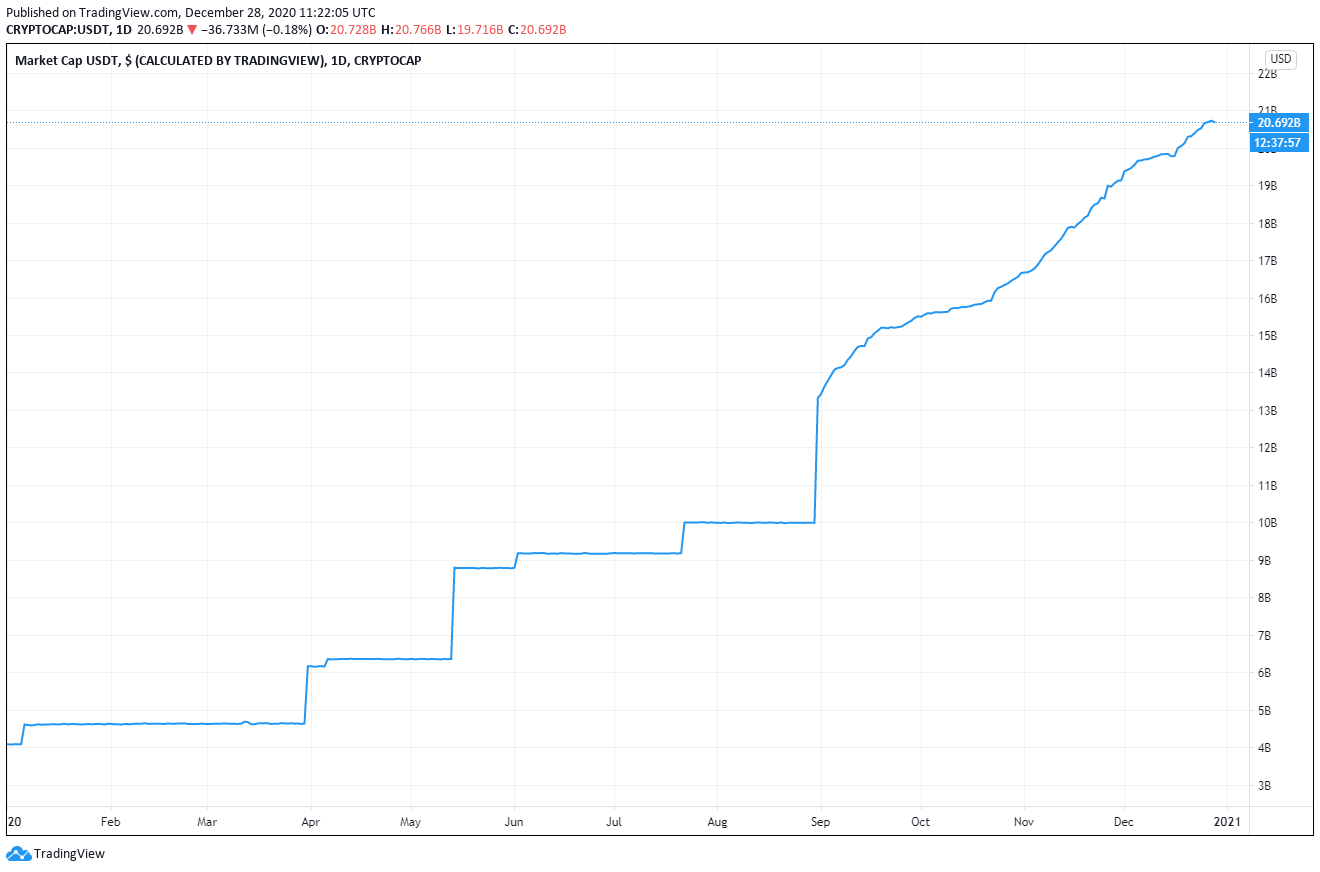 Tether, or the "cryptodollar" as the researcher labels it, revolutionized the industry over the past couple of years. It opened huge trading gateways with massive liquidity that were impossible by using fiat. Tether (USDT) has been a life raft for many citizens in countries with hyperinflation or strict currency controls. It also helped power the rise of DeFi alongside Ethereum.
However, multiple U.S. agencies and prosecutors are investigating Tether. The company has so far produced very little in the way of defense or audits. Tether cannot sustain its monumental growth, the research added. The authors state that the day of its demise will bring down the entire industry.
Crypto markets will seize, exchanges will be thrown into disarray, millions of crypto traders will likely have their assets frozen, and prices everywhere will plummet.

Haseeb Qureshi
The future of stablecoins
Currently, the Stable Act is just a proposal. It faces a lot of criticism from industry leaders and entrepreneurs, for example. They claim that the proposal sends the U.S. back into the dark ages in terms of innovation and digitization.
However, a recent Presidential Working Group statement bodes poorly for this crypto segment. The statement suggests that all stablecoin holders should be subject to KYC requirements, which indicates that stablecoins are still in the line of fire.
Tether may not be the future of the digital dollar. First, a regulated stablecoin that becomes the defacto standard is a likely replacement. Then, inevitably there will be more controls and identity checks from governments, banks, and tax authorities. If that is the case, the freedoms we have today with digital money movement could be a thing of the past.
*Originally posted at CVJ.CH